The Making It! Institute

Central to the American Dream is a powerful desire to control our own destinies through enterprise and self reliance. Not only are most businesses in our country small, even the biggest likely began as a modest enterprise fueled by a passionate dream. The Making It! Institute's purpose is to help those people realize their dreams, especially in underserved communities.
We help supercharge the learning process for existing and aspiring entrepreneurs with a special focus on peer to peer exchanges of knowledge. Learning from the Superstars of Small Business is the best way to learn.
Our Superstars of Small Business events are designed to bring the owners of growing businesses and start ups together with proven experts in a useful and intense one day educational gathering.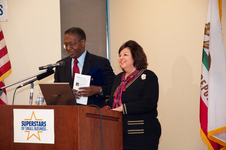 SUPERSTARS OF SMALL BUSINESS

Maria De Lourdes Sobrino is Founder and CEO of Lulu`s Dessert Corporation, a multi-million dollar business established in 1982. Ranked among the top-500 Hispanic Businesses in the U.S., she is known as "the queen of ready-to-eat gelatin".
NELSON DAVIS, PRESIDENT OF NELSON DAVIS PRODUCTIONS WITH MARIA DE LOURDES SOBRINO, FOUNDER AND CEO OF LULU`S DESSERT CORPORATION
SUPERSTARS OF SMALL BUSINESS

Maurice Ortega, Founder and President of A.M. Ortega Construction, a $39 million firm that started in San Diego is a categorical success story. He has extensive knowledge on team building and structuring to manage a fast growing business.
MAURICE ORTEGA, FOUNDER AND PRESIDENT A.M. ORTEGA CONSTRUCTION AND JAYME LOMAX OF SDG&E

The Making It! Institute is a 501c-3 not-for-profit corporation dedicated to advancing the development of small business and the education of those determined entrepreneurs whose success can keep families, neighborhoods, communities, and entire regions alive with jobs and positive economic activity.

Fueled by 20 years of experience producing America's most-lauded small business TV program – "Making It!" – The Institute was founded by television producer and entrepreneur, Nelson Davis, as an outgrowth of his passionate belief in the importance of entrepreneurial spirit in our daily lives.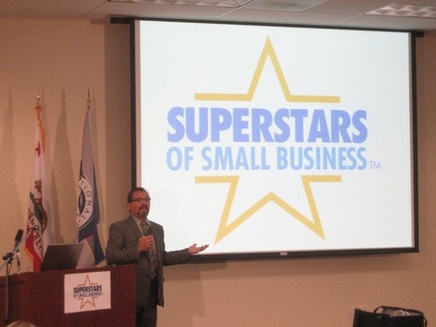 MAURICE ORTEGA, ORTEGA CONSTRUCTION

If you are a small business expert we'd like to consider you as a speaker at our next "Superstars of Small Business" event. If you can present expert information in the areas of banking, telecommunications, finance, technology or insurance, we'd like to know more about you. Contact Nelson Davis, nelson@MakingItInstitute.org